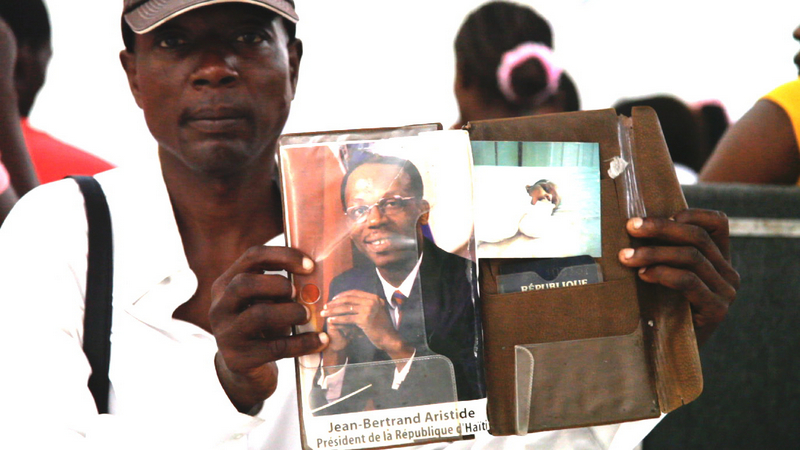 Published on the Huffington Post January 24, 2011, Commentary by AFD board menber, Laura Flynn
http://www.huffingtonpost.com/laura-flynn/not-even-the-past_b_813172.html
In Haiti, Reliving Duvalier, Waiting for Aristide
January 25, 2011
In the 1980s, when the armed forces of Jean-Claude Duvalier's regime set about exterminating "Haiti's Creole pigs", they would come to Haiti's rural villages, seize all of the "pigs", pile them up, one on top of the other, in large pits and set fire to them, burning them alive.
A Haitian friend recounted this story to me this week. It was an image that she could not get out of her head since Jean-Claude Duvalier returned to Haiti. Because that's what it was like for her, to watch Duvalier be greeted like a dignitary at the Port-au-Prince airport, and then escorted to his hotel by UN military forces — like being burned alive.
In 1968, when my friend was 3 years old, members of Duvalier's Tonton Macoutes came to her home at 3 o'clock in the afternoon as her extended family shared a meal in the courtyard of their house in the Port-au-Prince neighborhood of Martissant. The Macoutes dragged her father and two of her uncles away. They then went to two other houses on her block, and took away all the men from those families as well. Her father and the other men in the neighborhood were members of MOP, the mass political party of Haitian populist leader Daniel Fignolé, which Duvalier wiped out, along with all other forces of opposition in the country.
None of the men taken from Martissant that day were ever seen again. They disappeared, perhaps perishing in the Duvaliers' infamous prison, Fort Dimanche, after enduring torture, beatings, and starvation. The families could not even hold public funerals, and they never recovered the bodies of their loved ones. With the help of a sympathetic nun, my friend's mother did manage a clandestine a mass for her husband, and later she consecrated an unmarked, empty tomb for him in Haiti's National Cemetery. To this day, she visits that empty tomb on All Spirits Day each year to honor the husband she lost over 40 years ago.
The common wisdom, repeated endlessly in the international press since Duvalier's return, is that Baby Doc's regime was less repressive than his father's. But my friend's mother does not remember it that way. Left to raise six children on her own, she lived for nearly 20 years –until the fall of Baby Doc in 1986 — in constant terror that she or her children would be targeted again. Each day, the children rushed straight home from school and didn't leave the house again. Each summer as soon as school ended, she packed them off to the countryside to breathe a sigh of relief.
Under Baby Doc the most spectacular violence, the murdering of whole families, mass purges of the military, and especially violence targeting Haiti's wealthy families, abated. But the intimate terror the Duvalier regime exercised over every aspect of daily life continued. In Martissant, as in most Port-au-Prince neighborhoods, there were active members of the Macoutes in every other home. With almost unlimited power, they spied on and policed their neighbors, attacking, arresting, even killing people for such infractions as wearing an Afro, not wearing shoes, or leaving a light on after dark. Since the Macoutes were not formally paid, and since the economy was in a free fall, they enacted daily violence and extortion on the population to survive.
The children of those taken in Martissant that day in 1968 never forgot what happened to their fathers. As soon as they were old enough — just kids really, 12, 13 years old — they found themselves drawn into, and then propelling forward, a movement for change. Each Sunday morning, a chain of young people from Martissant set off across the city, jen pase pran jen, young people gathering more young people, until they numbered in the hundreds, arriving at doors of St. Jean Bosco in La Saline where a young priest was saying out loud what they had been saying in their hearts all their lives: Fok sa Chanje. This must change. These young people, joined by thousands of others in church and grassroots organizations across the country, ignited a movement that after long struggle and many lost lives, finally overthrew a 30-year dictatorship.