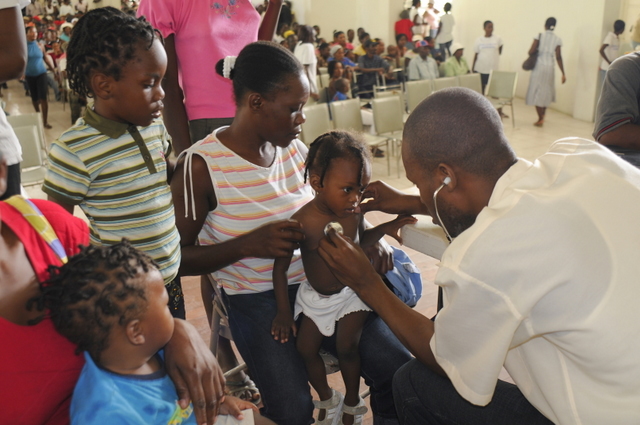 Every Wednesday morning in the auditorium of the Aristide Foundation for Democracy in Tabarre, Haiti, over a 1000 people receive free primary care treatment.  Almost all of the people coming to the Foundation for care are living in temporary settlements in the area.
The clinics have become a weekly gwo konbit medical – with 40 or more doctors, dozens of volunteers and health workers and pharmacists, working together to make sure that everyone who comes sees a doctor and receives the medicine they need.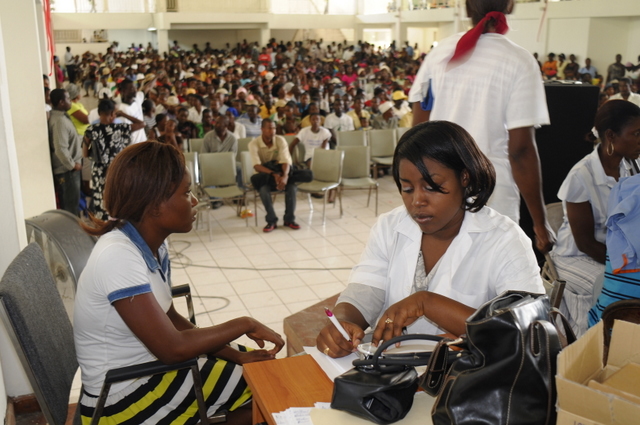 Services offered include: general medical care, as well as pediatric, eye, dental,  gynecological, orthopedic and psychological  care.   The Haitian Ministry of Health (MSPP) sends health monitors to carry out vaccinations for all those who want them.  Canned milk is distributed to all pregnant women and mothers of young children.
The most commonly observed health problems are malnutrition, diarrhea in children, respiratory ailments, urinary tract infections,  intestinal parasites, and untreated high blood pressure.  The vast majority of those attending the clinics are living in temporary settlements (tent cities) across the metropolitan area.  Many of the health problems they face are a direct result of the conditions in the camps, which have little or no sanitation and limited water.   And it is now raining nearly every night.