Please join us in honoring Haiti's mothers! 
In solidarity with Haiti's Mother's Day, and in memory of the late Father Gérard Jean-Juste, a Mobile Clinic was held at the Aristide Foundation for Democracy this past weekend. Medical and nursing students from UNIFA, the University of the Aristide Foundation, assisted doctors in performing medical exams for the hundreds of women seeking medical care that day.
Father Gérard Jean-Juste, who died eight years ago on May 27, 2009, courageously dedicated his life fighting for human rights and social justice on behalf of Haiti's poor and refugees. 
Haitian mothers are like all mothers everywhere. They want their children to be healthy, go to school, grow up and have jobs and happy, healthy families of their own. In sum, they want their children to thrive and have dignity and respect in their society. 
These are, after all, human rights as embodied in Haiti's Constitution, the United Nations Convention on the Rights of the Child, and the United Nations Millennium Declaration (Sept. 2000) that states in its section on Freedom that 
"Men and women have the right to live their lives and raise their children in dignity, free from hunger and from the fear of violence, oppression or injustice." 
However, the number of doctors in Haiti remains woefully inadequate with less than two doctors per 10,000 habitants. Infant and child mortality remains high and women die in childbirth at a rate of twenty-five times higher than women in the U.S. In most rural areas nurses are the primary health care provider. Only approximately twenty-five dentists are graduated each year throughout the whole country and until UNIFA created the first degree program in physical therapy, there were no higher education Haiti trained physical therapists. The 2010 catastrophic earthquake made evident how critical this field is but to date many hospitals in Haiti don't have units for physical therapy. 
When former President Jean-Bertrand Aristide returned to Haiti in 2011, he was determined to reopen his university to continue to carry out his vision and commitment to provide a human-rights based model of education as the building block for effective change in Haiti. 
UNIFA, the university of the Aristide Foundation, is unique with its emphasis on human rights, dignity, and inclusiveness as the path to a new and just Haiti. (See 
UNIFA's Guiding Principles.
) In amplifying her husband's emphasis on dignity, Mildred Aristide framed the importance of dignity to the future of Haiti as, 
"…resistance is bound to a powerful will to affirm a shared humanity rooted in dignity…This notion of dignity embraces self-determination. People as subject and never object of their history." 
UNIFA works on all these fronts. To provide a quality, higher education to all qualified students without exclusion, UNIFA's tuition is much less than other private universities and is able to draw students from throughout Haiti because of its dormitory that currently houses sixty students. UNIFA is a fully accredited Haitian university offering degrees in seven disciplines: Medicine, Law, Nursing, Physical Therapy, Dentistry, Engineering and Continuing Education and currently has 1,300 matriculated students studying at its Tabarre campus in Haiti. 
Adhering to the State prescribed curriculum and educational requirements, UNIFA supplements course work with additional classes and lectures utilizing its own prominent professors as well as visiting local or foreign professors and experts, including Cuban doctors, who share different approaches and experiences. 
"Students gain their own perspective and state of mind. UNIFA provides excellence in education and a safe space for learning where students can think about issues confronting Haiti and seek solutions that they will ultimately contribute to resolve," Mrs. Aristide explains. 
UNIFA is a stepping-stone for Haiti, where professionals are trained inside Haiti and students can control their own destiny and forge their own future. Through community service, participation in mobile clinics, gaining practical experience in clinics and hospitals, students build relationships in the professional world before they graduate and get to see the whole range of possible work in the medical field, including research and other specialties. 
Moving UNIFA and a new Haiti forward each year! The first class of UNIFA law students will graduate this September. Sixth-year medical students are doing internships at state and Partners in Health hospitals in Delmas, Mirabalais and Gonaives. Fifth-year medical students are gaining practical experience at the Hospital Bernard Mevs. UNIFA's nursing students are gaining practical experience in clinics and hospitals throughout the Port-au-Prince area. Physical therapy students are in their third year and UNIFA hopes to offer a masters program in physical therapy in the near future. As of March 2017 the construction of the anatomy lab building was completed and is being used to practice dissection. The cafeteria will be moving into a new modern structure. UNIFA's engaging 

Thursday

 lecture series are very successful and the annual Science Week held in May enjoyed guest lecturers from diverse fields who discussed proactively the realities of emergencies and disasters facing Haiti. 
UNIFA's Campaign for Dignity. Next UNIFA needs to complete its construction of its 
Diagnostic & Primary Care Center
so students can get the full range of practical experience while also serving families living in this growing region. It is the first component of UNIFA's teaching hospital. As Dr. Paul Farmer, of Partners in Health, who teaches at UNIFA and serves as the President of our not-for-profit explains, "You can't teach medical education without a hospital." 
UNIFA needs your help to get this done. Once the construction of the Diagnostic & Primary Care Center is completed it will need staff, furnishings, medical equipment, and operating costs. UNIFA dental students will need dental chairs and physical therapy students will need beds. Until the teaching hospital is built, patients needing more advanced care or surgery will be received by the Hospital Bernard Mevs, UNIFA's partner organization. 
Let's honor Haiti's mothers together. Please help UNIFA build a new Haiti. Help UNIFA construct its Diagnostic & Primary Care Center, the first phase of its teaching hospital. 
The 2015-2016 academic year at UNIFA has seen tremendous growth.   University enrollment at the start of  2015-2016 was approximately 1600 students.  Students admitted in fall 2015 students were drawn from a pool of 1175 applicants, 63% of whom were young women. The highest concentration of applications was in the School of Medicine, followed by the School of Nursing, School of Physical Therapy, and School of Law.   In addition, UNIFA launched a new pre-college prepatory program for students who showed great academic promise, but who were not able to gain admission to the University.  This program is designed to make good on UNIFA's promise of serving all Haitians, by creating a pathway to a University education for young people whose high school education has not given them a strong enough academic basis to begin University level courses.  A small group of students were also recruited this year to do coursework to prepare them to enter UNIFA's first class in the new School of Engineering.
The year began with a University wide convocation in October of 2015.  Speakers at the 2015-2016 convocation included Mildred Trouillot Aristide, Member of the Council of Administration, Dr. Dina Vital of the Continuing Education Program, Dr. Dodley Severe, Member of the Rectorate and Faculty Member in the School of Medicine, Dr. Michaele Amédée Gédéon, Dean of the Medical Faculty; Fabrice Fievre, Co-Dean of the School of Law; and Chrystel Woel de Delva was the master of ceremonies.
Speaking to the UNIFA student body Dr. Dodley Severe declared:   "You are here at UNIFA, not only to receive a diploma, but to guarantee a better future for oursociety."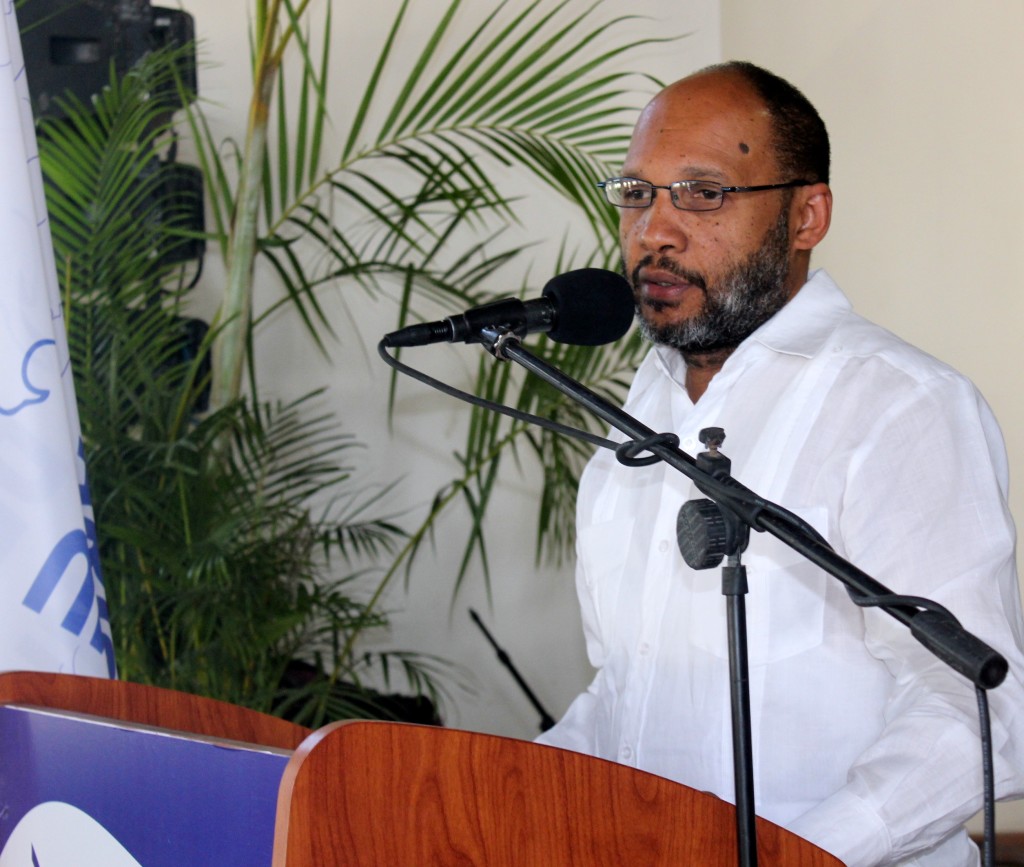 The Convocation Keynote speaker was Professor Erin Daly who joined UNIFA this year as the new the Vice President for  Institutional Development.
Here are some excerpts from her from Keynote Address:

…UNIFA is unique not only because of its campus, but in its vision for the future. You have already seen the work that has been done here in the last few years. In the months and years ahead, you will see even more. I promise you. You'll see the construction of more classes, more laboratories, more spaces to study and work, and additional schools.
But UNIFA is not an island. You are not isolated here, but linked — tied to the communities that you come from, to your surroundings here in Tabarre, and to other educational and professional institutions around the country — to hospitals (where you do your internships), to legal professional organizations, to many different places here and, increasingly, abroad — with professors who come here to teach and to participate in conferences. Moreover, you're linked through technology to faculty and researchers potentially throughout the world.
And it's this vision, this ambition, this capacity for growth, to always get better that makes UNIFA such a special place. There's a momentum here, an energy, a dedication to the art of the possible, that you don't see that often, either here or in other countries.
This is a place that is unique in another sense as well. It's the only institution that I know of that is founded on the idea of human dignity. It's inscribed in the sign that stands just outside. « Si n pa sove diyite n, diyite n ap sove kite n. »   If we don't safeguard our dignity, we will lose it. It's an idea that is very simple, but very important. An idea that, for you, is not at all new. …
In Haiti, the best reference is in the phrase "tout moun se moun." But what does this mean? You already know. Each person is a person. That is, each person has value, and each person's value or worth is the same. The equal worth of each person, everywhere in the world. It's important, but it's not just an abstract principle or idea. It's not just a philosophical principle. In judicial opinions, it's linked to the full development of the personality, to each person's ability to realize his or her potential, to become all that one can. And they say, in these legal opinions, that each person has the same right to develop his or her personality as every other person.
So dignity is the essential element that permits us to develop, to grow. It's not a thing, like a jewel or something we keep inside a safe. We don't say, "I have my dignity, now that's done!" Dignity is always a work in progress, as we seek to develop our talents, our intellectual capacity, our spirit; to learn what we are capable of. And to develop just as much as any other person. That's why we always need to safeguard our dignity — because we don't ever want to lose the ability to grow.
And that's also why the idea of human dignity is at the heart of this university. The administration here has confidence not only in who you are, but in what you will become — as students, as professionals, and as participants and contributors to civil society, throughout this wonderful country of yours.
St. Trinity Orchestra opened the ceremony with the National Anthem, then offered students, faculty, administration and guests a selection of classic Haitian music.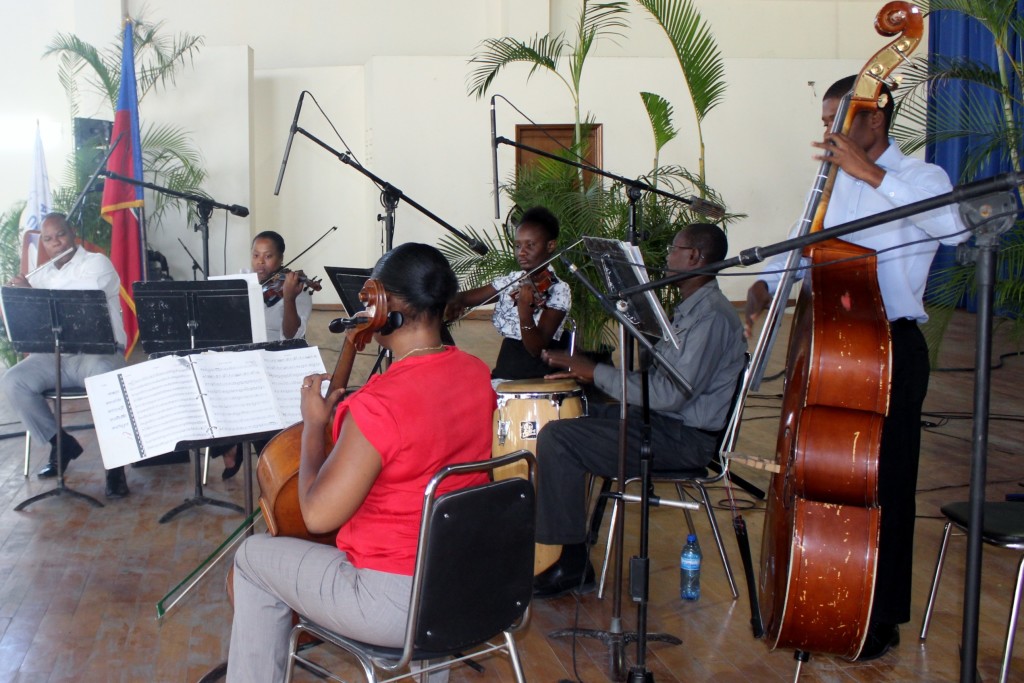 At the convocation, along side our national flag, we raised the blue and white flag of our University. A dove, wings open, lifted by a hand, ready for flight. This flag symbolizes UNIFA's commitment, forever open and ready to welcome professors, students, researchers and friends engaged to support the development of this university community where, in unison we declare:
Education without exclusion.
In the fall of 2014, UNIFA an accredited institution of higher education in Haiti, began its fourth academic year since its rebirth in 2011.  The University was founded by former Haitian President Jean-Bertrand Aristide.  When he returned to Haiti from forced exile in South Africa in the spring of 2011 he promised to dedicate himself to education in Haiti.    Since then he has done just that, reopening UNIFA just six months after his return.   There are now over 1000 students studying at the UNIFA campus in four degree granting programs: Medicine, Nursing, Law and Political Science, and a brand new program in Physical Therapy.
New School of Physical Therapy Opens
The new School of Physical Therapy, which opened on Oct 6, 2014, is the first Physical Therapy School in Haiti. (There are only a handful of Physical Therapists in Haiti and all were trained elsewhere.)  This program is a partnership between UNIFA and Stony Brook University, State University of New York.  This school answers the acute need for Physical Therapists in Haiti, a need that became particularly clear after the 2010 earthquake when many people suffered devastating injuries that require intensive rehabilitative treatment.  Stony Brook faculty are working with UNIFA faculty to create the curriculum, and they will provide the much of the teaching staff for the courses particular to Physical Therapy.
Medical School Enrollment tops 500
At the Medical School there are now four classes years of medical students, for a total of over 500 young doctors pursuing their medical training at UNIFA.   In January 2014, third-year medical students started clinical training at the University Hospital in Mirbalais run by Partners in Health and at the Bernard Mevs Clinic in Port-au-Prince.   Third and fourth year students will continue their clinical training during the 2014-2015 academic year.  Dr. Michaèle Amedé Gédéon was appointed as the new Dean of the School of Medicine in the spring of 2014.   She is a former Minister of Health, and Director of the Red Cross.  Since becoming Dean last spring she has brought tremendous skills, resources, energy, and enthusiasm to all of the health science programs at UNIFA.
Nursing School Will Meet High Demand for Nurses in Haiti
Berteline Beaulieu was appointed director of the School of Nursing in December 2013. She brings to the job over 25 years of experience in nursing, both as a practitioner and educator. Under her leadership second year nursing students completed a three week clinical rotation at Hopital St. Nicolas in the northern city of St. Marc, while nursing students will continue to gain valuable experiencing assisting physicians and nurses at the regularly scheduled health fairs at the Aristide Foundation for Democracy.
Law School Focuses on Human Rights and the Rule of Law
At the Law School, during its first year Jeffrey Brand, the former Dean of the University of San Francisco Law School, served as international visiting dean.  In addition to support to the new school and helping to shape curriculum he led a two–week seminar with incoming students on international human rights law.
Visiting Faculty & International Partnerships Connect UNIFA to the Universities Around the World
During the first 3 years, UNIFA welcomed over a 12 visiting professors from the United States, Haiti's Diaspora Community and one professor of law from Southern Cross University in Australia.    The partnership with Stony Brook University promises a steady presence of international faculty within the School of Physical Therapy.   Physicians for Haiti, a medical group in Boston continues to recruit and send medical faculty to teach at UNIFA.   In April 2014, Dr. James Quesada and Nadine Quesada spent a week at UNIFA.  Jim specializes in medical anthropology at San Francisco State University and Nadine is a practicing registered nurse.  They co-taught a five-day course (to medical and nursing students) on the physical and psychological effects of trauma.  Dr. Diana Chamrad visited in May and lectured on health behaviors.  Visiting faculty are scheduled to teach in all three of the health sciences program during the 2014-2025 academic year.
For a second year, Physicians for Haiti hosted a three-week summer course in social medicine at UNIFA. This year UNIFA nursing students join UNIFA and American medical students in this innovative, multidisciplinary class. Fifteen international students, and 10 Haitian students participated in the course.
In September 2014, UNIFA signed a Memorandum of Understanding with Rosalind Franklin University of Medicine and Science (RFUMS), based in Chicago. This partnership seeks to offer on line educational information to UNIFA and enhance UINFA's information technology capabilities, to recruit other institutions of higher education into the collaborative effort, and involve RFUS faculty in the education of UNIFA and RFUMS students, and the delivery of charitable health-related humanitarian services in a clinical environment.
UNIFA is also collaborating with the diversity program, PRIDE, at NYU School of Medicine to develop a strategic vision for building a strong research division at UNIFA to address the many health and psycho-social problems facing Haiti.
Huge Demand and More Expansion
Demand for entrance at UNIFA continues to be overwhelming.  For entrance into the three health sciences programs in the fall of 2014, one thousand three hundred candidates sat for the entrance exams.   Before taking entrance exams students must first meet stringent high-school grade and test score requirements.   Of the 1300 who met this mark and took UNIFA's exams, approximately 350 were admitted to the school of medicine, the school of nursing, and the brand new school of physical therapy.
To welcome so many new students the UNIFA campus continues to expand.  Over the summer of 2014, a second floor was added to the Nursing School and work began on a new building which will house the School of Physical Therapy.  There are now three large building on the UNIFA campus, two if which will likely we further expanded in the near future.
Congratulations to the 350 new UNIFA students who began their studies in October, 2014.  Congratulations to the faculty, staff and administrators who have made all this happen!